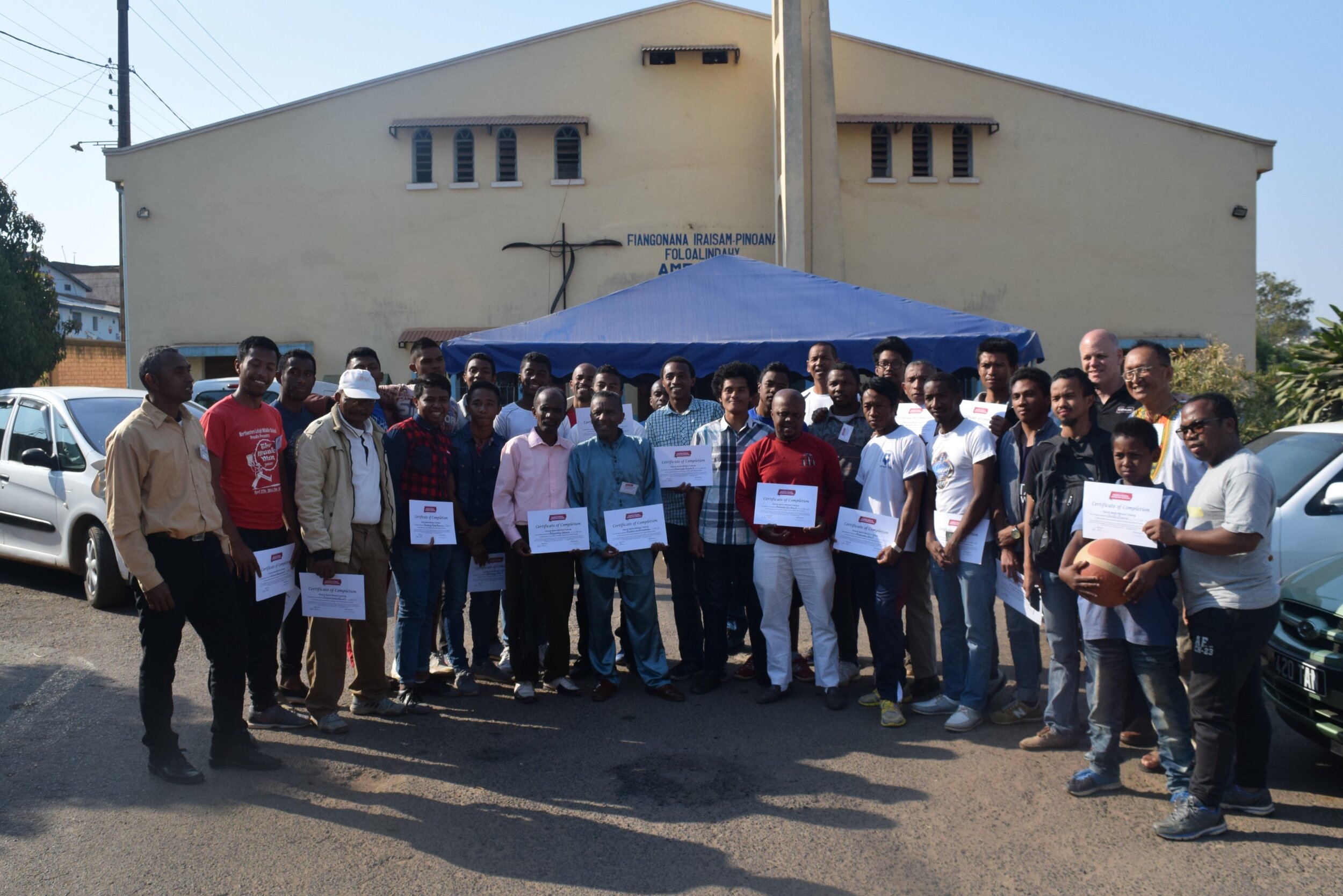 Story by Katie Machell, Photos by Njaka Rasamoelina
'I love the Lord and sports, so I use my God-given athletic abilities to serve Him and the church,' says Njaka Rasamoelina, who led a team from Church Sport and Recreation Ministry (CSRM) on an outreach trip over Easter. 'The mission that we carried out was very difficult and expensive, but the Lord opened the doors, He gave us the wisdom and total assurance to announce the Word of God.'
Njaka's passion for sport as a means of evangelism stems from his own journey to faith. Before becoming a Christian, he was a high-level basketball player in the military. After his conversion he attended Bible School where he wrote a thesis on "The place of sports in evangelism in Madagascar", and carried out sports ministry while he was studying.
Later he returned to work with military athletes, providing spiritual leadership and discipleship training. 'This ministry opens doors to evangelise high military figures, senior officers, and general officers,' he says. 'When one is filled with the Spirit, one has total assurance of proclaiming the Word of God, even to those people, who have the same need to be saved.'
For this mission trip, he and his colleagues flew with MAF as part of an initiative known as 'MAMAFY'. 'The word means 'sowing' in Malagasy,' explains Country Director Patrick Keller. 'For several years we have been flying local pastors and trainers to remote areas to preach the gospel all over Madagascar. Over the last four years a small team has gathered a huge amount of data, and has been able to map many of the churches and organizations together with the locations of their projects all over the country. We saw that there are three main areas which continue to be isolated with very little or no church presence or any other projects, so last year we identified some villages, all accessible with an existing airstrip, and invited partners to join us to reach out to those locations.'
CSRM was one of the first partners to respond.
The team flew to the west coast of Madagascar, to a place with a significant Muslim presence which is not accessible by car, only by sea or air. Njaka takes up the story. 'When we arrived the local Lutheran church came to welcome us. Then we paid a visit to the Mayor (who is a Muslim) to get the authorization for our mission, and we were able to give her a football and a DVD of the Jesus film. We were very honest and explained that we are people who pray and are here to talk about God, and we asked permission to do sports with the people, and show them a movie in a neutral place. We sensed immediately that her heart was open.
'Next we took a ball to the football field, and straight away children and young people came to play while older people watched. We know that people lack leisure and recreational activities, so when we go to a field and people join a game with us, we have already given something that was missing, we have already filled a void in their lives. At the end of the game, we can transmit important messages because their hearts are open and ready to receive the Gospel. In this village when we started to share everyone listened carefully. When we visited the Mayor again we preached the gospel to her and she repented and received Jesus as her Lord. We have remained in contact and recently she was asking for Bibles.'
After their positive reception in the first location, they travelled to other towns and villages in the area to continue their outreach. 'Different sports are played depending on the situation,' explains Njaka. 'Football, basketball, volleyball, handball, rugby, or individual sports are all used, depending on what people are interested in. The aim is to take advantage of the opportunity to preach the Word of God with all assurance. The Gospel never changes, but the means vary according to the needs and situations.'
The team also shows the Jesus Film, usually projecting it on a screen in an open field, often to several hundred people at a time. At the end they give an opportunity to respond to the message and commit to following Christ; on this trip they were encouraged to see a number of people come forward each time. Alongside this, CSRM is fully committed to training and equipping local churches to change lives through sports outreach ministries; it is core to their mission. The churches can also take responsibility for discipling and supporting those who have come to faith through the outreach.
Njaka reflects that what was achieved on this trip is only the beginning and there is still a lot to do; a sentiment shared by Patrick. 'The CSRM team did a wonderful job being very sensitive to the local community and authorities, yet not shying away from boldly preaching the gospel. God seemed to have confirmed this work by changing hearts. They also confirmed the significant need for education and healthcare in that area and are ready to return to follow up on their first steps. It is wonderful to see that they are open to working with other people or organizations who might have strengths in teaching and mentoring young converts.
MAF will certainly continue to bring in workers for the harvest and will consider bringing in MMS (Medical Safari) teams in the future to bring help, hope and healing to the most isolated people in Madagascar.'