The year of 2019 has been a historical milestone for MAF PNG. We are moving from a multi-type fleet to a single type fleet, flying Cessna 208 Caravans only. Brad Venter, our South African Flight Operations Manager and Pilot used to fly the Twin Otter in Papua New Guinea. But this year he has been training on the Cessna Caravan to continue to serve the isolated communities.
Aviation Director for MAF International, William Nicol said, 'With an all-Caravan fleet powered by the dependable PT6 engine, significant gains in reliability and mission impact will be achieved. The Caravan provides capability that ensures an effective, efficient and sustainable operation—a critical consideration when operating with limited infrastructure in challenging conditions, where remote access often becomes a matter of life and death.'
Like many others who are used to seeing our Twin Otters serving their needs for the past decades, the Teptep community were a bit concerned about MAF's move to phase out the Twin Otters. However, seeing the new Cessna 208 aircraft land with pilots Luke Newell and Brad Venter and realising that MAF is continuing to serve them brought great joy to the people at Teptep.
With 85 percent of the population of PNG living in rural areas, where there is no road network, MAF's aircraft become lifesaving vehicles.
The community welcomed the new Cessna Caravan with singsing and a thank-you speech by one of the community leaders.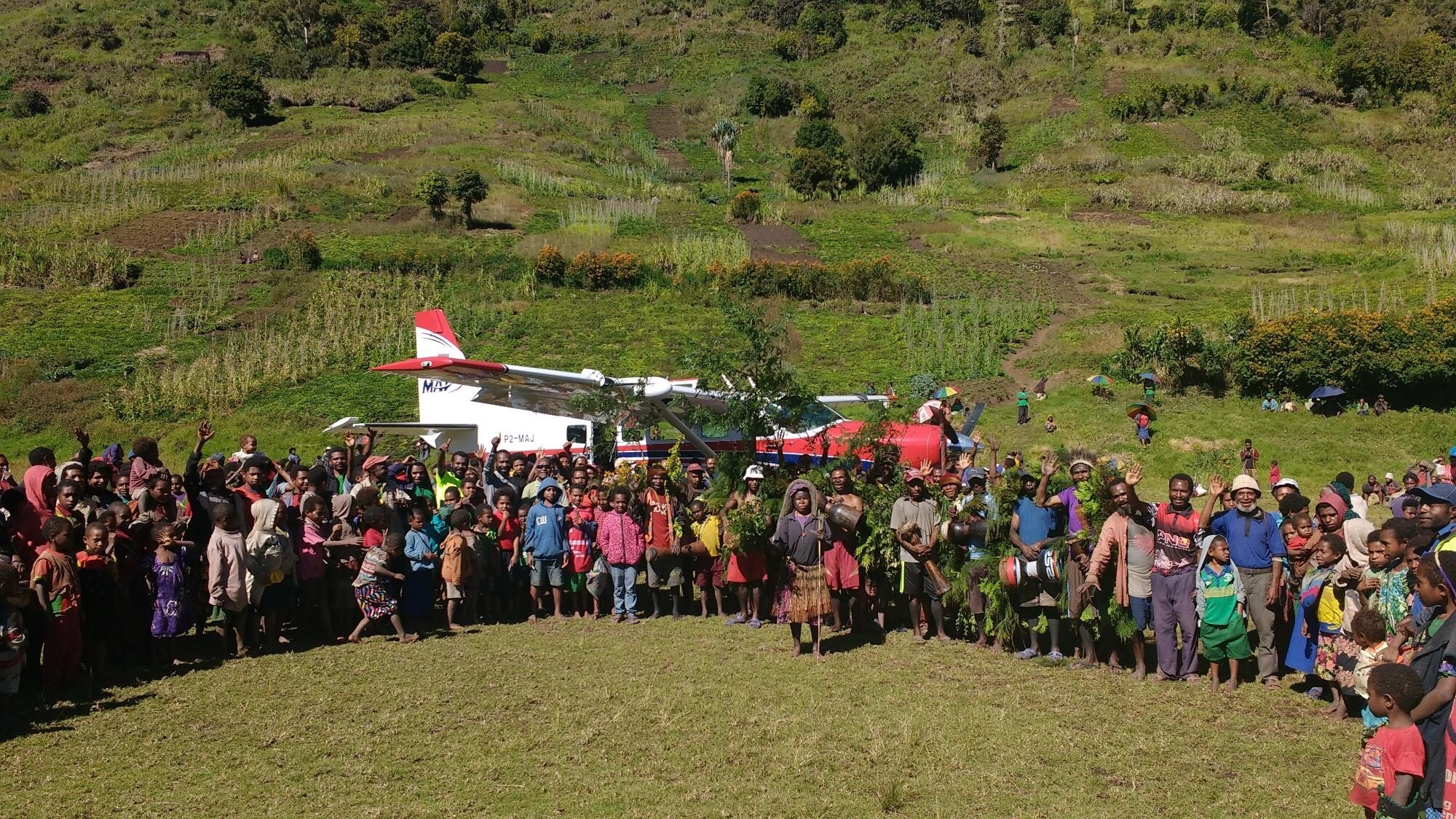 During this year, these Goroka-based pilots, who have been serving the communities in the past mainly with the Twin Otter, are now trained on the Cessna 208 Caravan. Training Captain Luke Newell had the honour to introduce this aircraft to many of the remote airstrips in the Finisterre Mountains and other places around Goroka. He not only introduced the new aircraft to the remote communities, but he did so in training two of our Goroka pilots to land at these airstrips, one of them being Brad, the other, Sebastian Kurz.
It is an honour to continue to serve these communities and we would like to thank you for your generosity that makes this possible!
Story by Mandy Glass Photos By Brad Venter & LuAnne Cadd