In the last week of March 2019, MAF Madagascar had the pleasure to fly several teams of Malagasy Bible translators from all over Madagascar to the capital, Antananarivo (Tana). The translators were excited! The next few weeks they would spend all their time working on their ongoing translation projects together with Bible translation consultants.
Before they came to Tana, all the groups had been busy working individually and in groups. Verse by verse they have translated Scripture portions (Gospels, some Old and New Testament), written it down, met in their teams, checked and agreed to a common draft. And every translator is a volunteer! "This work is not about earning money. The people involved in this believe in doing it because it is important to them", Leoni Bouwer explains. She is currently the leader of this Bible Translation network in Madagascar.
When I (communication officer) enter the room where the translators sit – my first impression is that I am witnessing something important! Everyone is working intensely on their translations. 3-5 people in each group, all working in their mother tongue, different from the Official Malagasy language.
It used to be said that everybody in Madagascar speak the same language, with some minor dialectal variation.  A science teacher in Tulear was frustrated that his students were so slow, thinking that their brains were not nearly as good as the ones he used to teach on the Plateau. But while he was helping Leoni's team prepare a bilingualism test with his students, the teacher understood that their problem was that they could not understand him sufficiently. In the course of doing research for her PhD study on the Malagasy language Leoni found evidence that there are different languages in Madagascar. People have difficulty understanding the Malagasy from the plateau area, what is called Official Malagasy.
When Johanne and Bjørn Leinebø in their second term were sent to work as missionaries in the southwestern part of Madagascar, they discovered that the official Malagasy language they had studied and used in their first term as missionaries in the highlands, did not communicate on the west coast.  The villagers told them – "What you are saying may be true, but it does not speak to us!" A rather shocking statement after having been told that Madagascar has only one language. And that even if there are several dialects, all Malagasy understand the official language. The response from the people was overwhelming when the missionaries started using local vocabularies through interacting with the people and were understood better. Many Malagasy people think they have to learn another language to become Christians. Hearing and reading God's Word in their own language, they say "God speaks our language?! Can we really address God in our own language?"
In 2001, after 5 years of language research, translation of the Gospel of Luke and of the Jesus Film started into five different Malagasy languages. Five different mother tongue translation teams were added in 2006. Since 2019 they started work in eight other languages communities, and the plan is to soon include further five languages.  With these projects, work in all currently known needs for translation in Madagascar will have been started.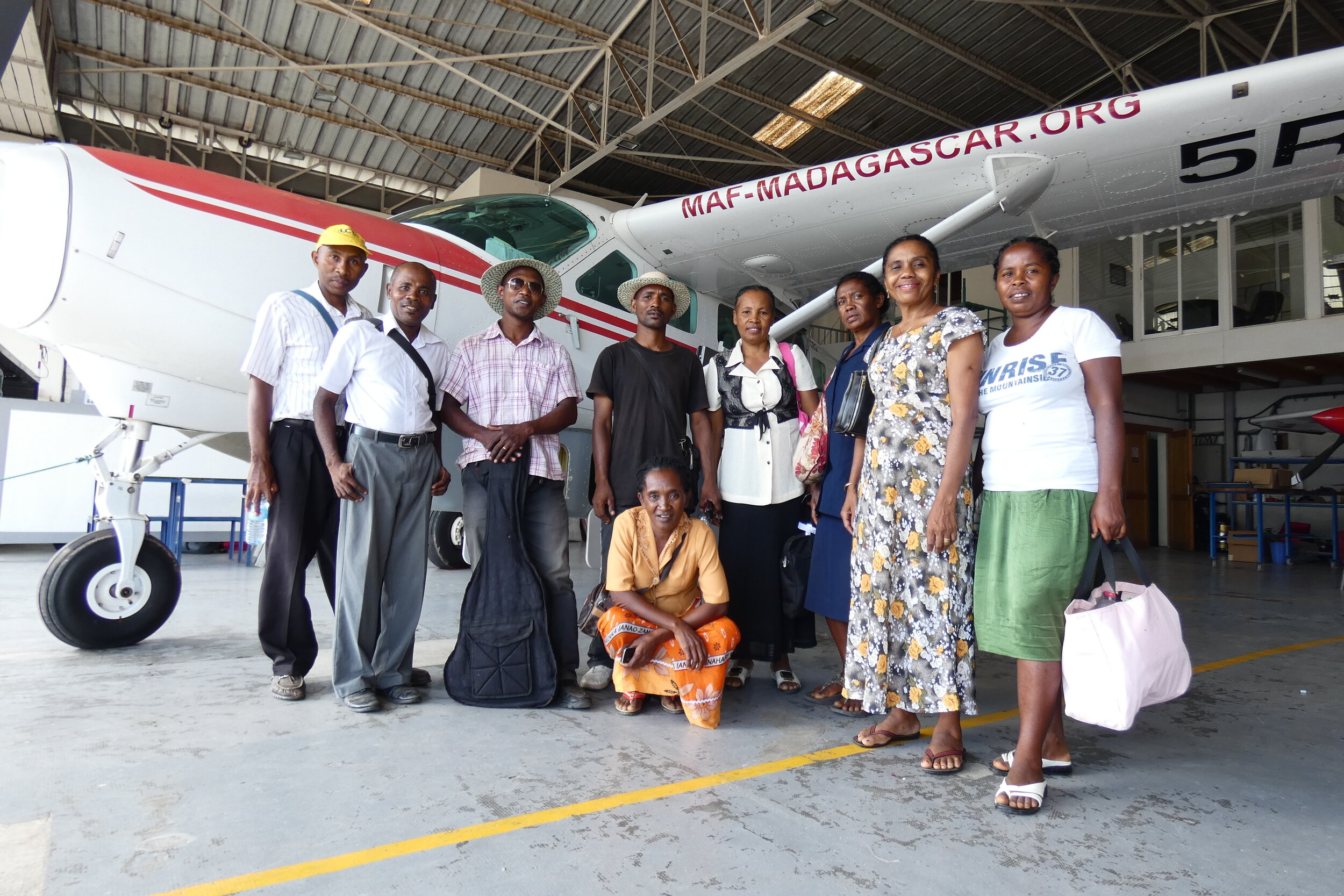 The Tanôsy group from south east Madagascar
Everyone had prepared their notes before coming to this seminar. Mostly all handwritten. The leader of the group has a computer – and his job is to record the final version the team decides on. Once there is a team checked draft, the translation consultant gets involved in the process asking questions and checking the translation with the team of translators. In the end the final result gets tested in the language community. "We read a text out loud and seek to notice how the people react to it. We ask them to retell sections of the translation read to them. You have to find out whether people understand the text from the translation itself." Leoni Bouwer explains. "If you just ask "do you understand?", you will perhaps only get the answer they think you expect of them. They might say "yes" even when they perhaps don't understand at all. That is how they are taught to do in school." I pay special attention to the Tanôsy team. The team consists of three men and one woman from several Christian denominations. "We need to work together with the Tanôsy as a community", Leoni explains. "Not only one person or one church, everyone needs to be included for the translation to belong to them." There are smiles on the faces of the Tanôsy team. They look like they enjoy the work they are doing! They quietly work through their text word by word. Their goal is to translate the whole Bible. "What keeps you going?" I ask. There is obviously a lot of work to do! "We love the Word of God and to see Gods Word work among us" Pastor Mosa Celestin explains. "We can already see results because Tanôsy people can now read parts of the Bible in their own language. An alcoholic I met once got to read some extracts of the Bible we had translated in Tanôsy language. The reading had such an effect on his life that he is not drinking anymore!"
But the work is not "only" to translate – there is also a need to help make the translation known and used locally. That is why it is so important to work together with the society and the different churches. We are building up an arsenal of material to support the church. For some churches it is still difficult to begin to use it, because they have always only used the Official Malagasy versions from the highland of Madagascar.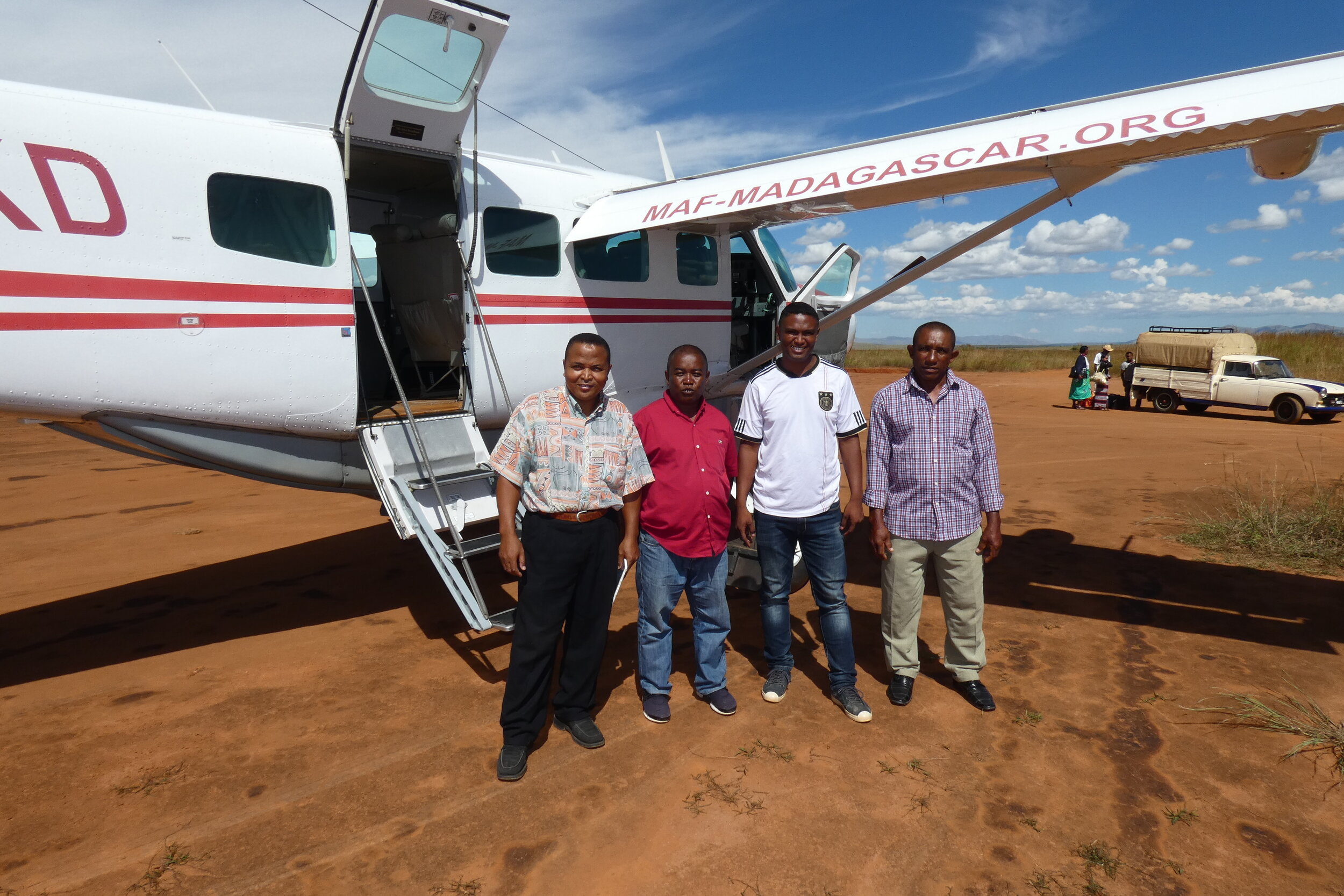 A tremendous help
In all of this puzzle, MAF has been a tremendous help. "MAF always tries to find how they can best help us shorten the distances our translator colleagues have to travel. We are very grateful for and dependent on this support from MAF", Leoni says. One of the translation teams had to walk for 3-4 days to come to a Bible translation workshop before MAF and Hellimission started to help them out. Their feet needed much care when they arrived. Others had to travel by taxi brousse 2-3 days on bad roads. "We were very tired and often got sick after traveling" a pastor explains. "The buses are overloaded; you only have a very small spot." In addition, before reaching the bus, some had to walk a long distance.
Why did Jesus need to die for "ota"?
One of the groups had translated the gospel of Luke. One of the key-terms, ota, (the term for sin in the Official Malagasy Bible) was an issue for discussion almost every time we met. They decided to keep the word, because that was a used and well-known word in their language. However, one day, after having finished translating the book, one of the group asked the Bible translation consultant. "Why did Jesus need to die for "ota"? "Nobody needs to die for that!" "Ota" is indeed in their vocabulary, but does not cover the full meaning of "sin" in the Bible. Ota in their language refers to a minor mistake or some bad manners. After some talking back and forth, they concluded that the word "ota" – was not strong enough to convey the meaning of "sin". "For what action would you need to make a blood sacrifice to receive forgiveness", the Bible translator consultant asked? And well familiar with having to make blood sacrifice to clean somebody from sin causing guilt, the answer was obvious to them and the word for it found.
Future plans
This example is not the only one. The bible is full of words and concepts that need to be discussed and defines to be able to reflect the true meaning of the original words from the bible. Much good work has been done, but we need to continue the hard work to be able to finish the important progress of bible translation in Madagascar. And for the future MAF is more than happy to help facilitate the transportation of the bible translators and the consultants as they often need to cross the country of the thousand hills and the terrible and often non existing roads.
We have pledged R40 000 towards this project.
Help us Reach our Goal!
If you feel so led, please consider donating to this project.