The need for lifesaving flights is greater during some weeks than others. This particular week five people from different rural villages were helped with a medevac by our pilots Joseph Tua and Jan Ivar Andresen. Saving several weeks on rough bush tracks and rivers with only a few minutes in the air.
The first medevac of the week took place, Monday.
"I had just taken off from Mt Hagen and got a message that there was a medevac needed in a place called Aiambak", says Joseph Tua.
The patient was a woman who had lost a lot of blood and whose bleeding couldn't be controlled. The woman lived in a village even further away from the airstrip and had been brought there on a canoe ta- king more than four hours.
"When I got to Aiambak I could clearly see that she was very weak and close to losing consciousness. We loaded her into the cabin as gently as we could and then I took her and her guardian to Kiunga where the ambulance was waiting for us. If they had to take her to Kiunga on foot, I believe it would have taken them at least two days", Joseph continues.
Tuesday early morning it was time for the next medevac.
A young woman had been badly beaten and she had lost all feeling in her lower limbs and couldn't walk or move her feet.
Joseph received the message the night before and prepared the aircraft to be ready for an early take off.
"The weather was good, and I was able to get into the village early morning. The patient and her family were already waiting at the airstrip when I arrived and with their help, we loaded her into the plane along with her two guardians".
A journey that would have demanded at least four days of bush tracking and travel with canoe, was now accomplished with a 20-minute flight.
The third call for a medevac came from Mougulu.
Pilot Jan Ivar Andresen had just come back from flying passengers from Port Moresby to Mt Hagen and was about to call it a day when he found out that two people urgently needed to go to the hospital. As there is only one stretcher in the aircraft, he quickly had to find a second one before heading off to Mougulu.
A young man had fallen from a tall coconut tree and was unconscious for 1 1⁄2 hours and clearly injured his back. The other passenger was a pregnant woman expecting her second child. Sally Lloyd describes the situation.
"She was at our clinic for the delivery, into the fourth day of labour with strong contractions and attempting to deliver the baby for many, many hours, but she could not deliver. She began to lose strength, and by the morning she was totally exhausted, and health workers knew she or the baby might not make it if we delayed".
When Jan Ivar arrived at the airstrip, they started to load the woman on the first stretcher. But she had a hard time lying down, so she ended up sitting in the back seat, and the man was placed lying down.
After 35 minutes in the air, they reached Kiunga where the ambulance was waiting.
Jan Ivar had once flown a medevac when the woman had been in labour for three days and the baby didn't make it, so he thought that saving the mother was the only possibility.
"I was so happy when I received a photo of the mother and the baby two days later, with both of them looking good and strong. Walking to the hospital would have taken 6-7 days and would not have been an option at all in their condition", he says.
Another lifesaving flight.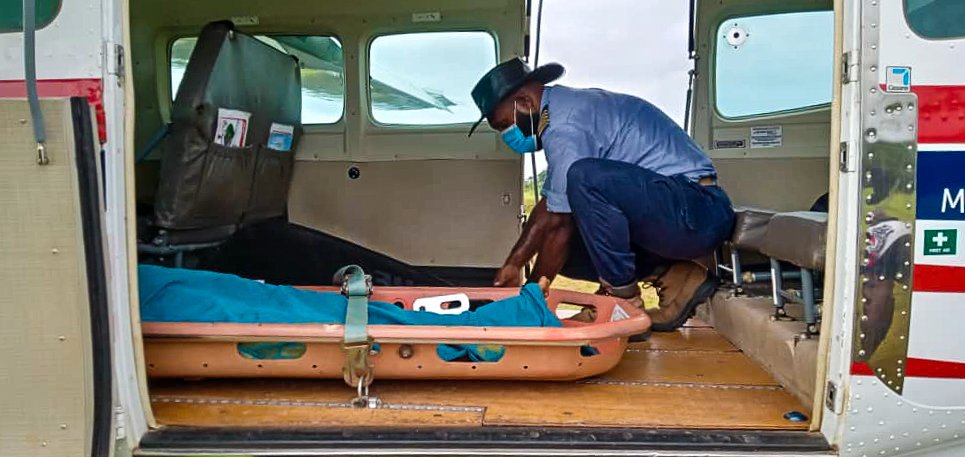 The last medevac of the week happened Friday afternoon.
"This day was supposed to be my day off, but I had a feeling that I might be needed so I stuck by my phone. And sure enough I got a call around 9 am that a medevac might be needed in a place called Suki" explanes Joseph.
Suki is located in the Western corner of Papua New Guinea close to the border of Indonesia 50 minutes south of Ki- unga, so the team tried to find another alternative.
"For some reason I already knew I was going to do it, so I got myself and my gear ready and headed to the office around noon. About 15 minutes after stepping into the office it was confirmed that I was doing the medevac and I got my aircraft up and ready and departed for Suki".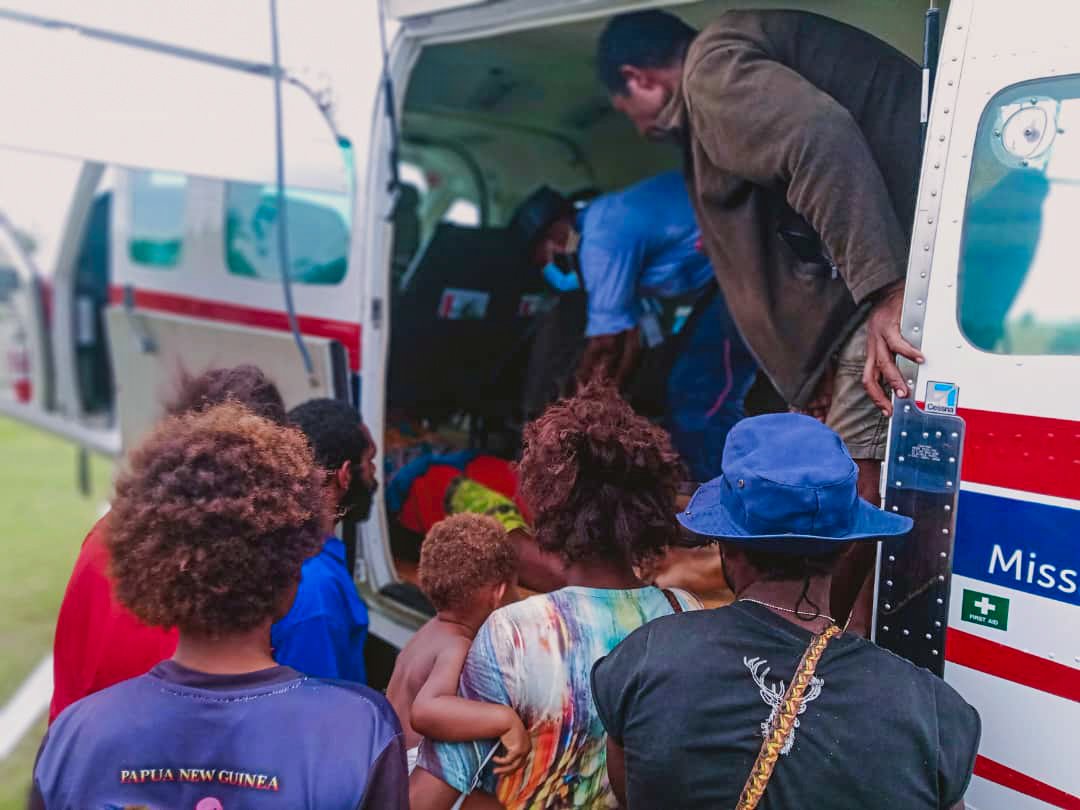 The passenger was a young man who was hit by a spear in the groin. He wasn't able to sit down and when he laid down, he couldn't move by himself because of the pain. The man was loaded onto the plane as the weather was getting worse.
"I was quickly running out of daylight. The weather reported at Daru was good, so I was happy to continue, and we got to Daru right at 5 pm where the ambulance was waiting. Without the aircraft, it would have taken them a week or two to either get to Daru or Kiunga from Suki".
So, in a total of 142 minutes in the air, instead of three to four weeks by foot, five people with life threatening conditions were brought to hospitals.
A week of flying-for-life indeed.
Story by Annelie Edsmyr, Photos by Joseph Tua.